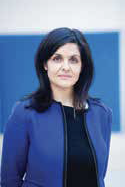 Welcome.
Grange Post Primary is a thriving Co-educational Second-level school committed to providing education of the highest standard to the second-level students of North Sligo, including Grange and its surrounding areas.  We offer a full range of subject choices to higher level at both Junior and Senior Cycle.  We also provide a structured innovative Transition Year programme as an option our students can avail of.
---
Central to our mission statement is the provision of a broad and balanced educational experience for all students in a safe, supportive, school community environment.  Through a dedicated, enthusiastic and innovative teaching team, we have achieved and maintain an impressive academic record with a notably high transfer rate into third-level education.  We consistently strive to insure that each and every student reaches their academic potential within our academic programme and supports.read more
Our strong academic goals and achievements are complemented by our varied extra-curricular programme with sport and music in particular, deeply embedded in our school culture. We provide a wide variety of sporting opportunities for all students ranging from rugby to hip hop and athletics.  We have a very successful school choir, "trad" group and annual talent show where any students with an interest in music will have ample opportunity to demonstrate and enhance their skills.
With student numbers growing consistently, we look forward to working in partnership with the local community to make Grange Post Primary School and its locality a strong vibrant and thriving community.
---
Eimear Harte
Principal